Skip to main content
Like us on Facebook, follow our tweets!
Want to play guitar like a rockstar?…impossible right?!..
No!
Sure there are some people who can literally master an instrument almost instantly, but these often aren't the people whose music we know and love. Practice, determination and some decent instruction can allow most people to master this beautiful instrument quicker than they think… many of our pupils are living proof! 
It's also worth pointing out that sometimes less is more and many great songs aren't that tough to play on guitar.
Of course, youtube is great for free video lessons which as a back up are great, but you just can't beat "one on one" coaching. Whether you're looking to start a new hobby or play professionally, everyone starts somewhere, why not with us? We make it fun, focussing on what you want to get out of each session / the long term rather than a "scripted" plan as is so often the case with music tutoring (and often the reason why people don't stick it out - perfection takes practice, practice is tough but only bearable if you're working towards a goal that you can personally relate to).
Brian Hanlon leads all teaching at RGs - as the business' owner and with years of experience playing and tutoring, his passion for music, as a seasoned performer and songwriter is infectious. He provides a friendly, fun and non intimidating setting and is always able to get the best out of his students with his unique teaching style and disarming approach.
We teach all levels and age ranges across the guitar spectrum from bass to acoustic and electric to classical.
We pride ourselves on affordability - we change £20 per 1/2 hour and £30 per hour! Feel free to shop around / do some research but hopefully you'll find that this is competitive even before you factor in the unique experience that you'll enjoy when you learn guitar at RGs.   
To book a lesson, chat about learning, discuss your dreams to improve or pick up your former passion after a break please get in touch!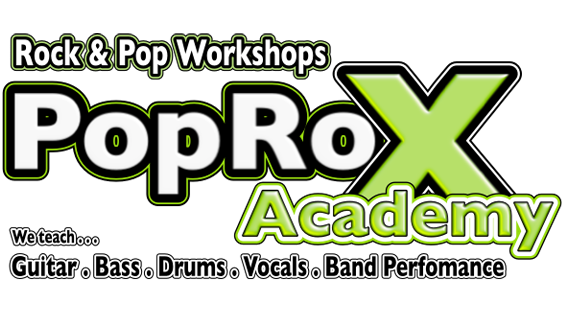 Ripley guitars is proud to partner PopRox Academy and will gladly offer all PoproX students and parents a 5% discount on equipment and accessories and 10% on set ups / repairs.

PopRoX Academy, based in Woking teach 7-16 year olds Guitar, Bass, Drums, Vocals, Band Performance and Production. They operate weekend workshops during term time called PopRoX Rock and Pop Workshops based in Knaphill and Holiday Workshops run from WaterRat Music Studios in Woking.